Milo Engineering continues to grow and invest in the latest technology.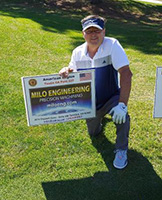 Shop Owner and Marine Veteran helped sponsor the annual American Legion Golf Tournment (2021)
Jan 2022 - Milo Engineering
procuces delicate fiber optic
ferrules for major customer.

2022 - Check back for new
Milo updates

Jan 2021 - Milo Engineering
procuces nickel rotors
for Missile Gyros

March 2021 - Milo Machining
adds another Haas CNC Mill.
Jan 2014 - Milo Engineering
to procuce new order
of high precision tiny parts for Northrop G-2000 program.
Milo Engineering
receives renewel order for
G2000 Northrop gyro parts.

Company passes
2013 ISO-9001 audit.
12/2012
Milo Engineering buys new
Omni-Turn GT-75 with live tooling.

12/2012
Milo Engineering receives renewal
order to make LN-200 laser gyro parts. Milo Engineering has delivered
over 250,000 copper laser parts
to Northrop since 1988.
12/2012
Milo Engineering makes Boeing countersink tooling for
US industrial tool

06/2012
Milo Engineering makes 32 MM
hub pullers for Ferrari 275 GT
and 330 GTS
April 2011
Updated Datalyzer
SPC software system

New Machinery
| | |
| --- | --- |
| Haas VF-1 CNC | Haas VF-2YT |
In order to meet Northrop's tight delivery schedule on the Unmanned global hawk program, Milo Engineering has just taken delivery of a new Haas VF-2YT and VF-1 CNC Vertical machining center.
The new VF-2YT machine offers a larger table area allowing Milo Engineering to produce more parts and longer production cycles. New features like a 40 tool magazine and thru-the-spindle coolant allow longer runs and better accuracy and better finishes in long holes and precision bores. The VF-2 also has Renishaw probing to allow Milo Engineering to probe parts before, during and after cycles to produce better parts and 100% inspection for its customer. The new VF-1 also has many of the same new features including a 25 tool magazine and renishaw probing. Milo Engineering is committed to meet its customer's growing appetite for high precision production parts with 100% no-defect inspection and on-time deliveries."
Milo Engineering to supply parts to the Global Hawk guidance system.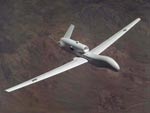 Click on image to enlarge

The Global Hawk UAV system comprises an air vehicle segment consisting of air vehicles with sensor payloads,
avionics, and data links; a ground segment consisting of a Launch and Recovery Element (LRE), and a
Mission Control Element (MCE) with embedded ground communications equipment;
a support element; and trained personnel.